Making a difference - how we live our values
As a business which takes its responsibility within society very seriously, a large part of our ethos at The Private Office revolves around giving back to communities and supporting international environmental projects. Building these relationships and using our profits to make a meaningful difference in the world is a collective goal all of our colleagues share.  
Demonstrating this, we have committed 25% of our future value to be gifted to the environmental charity, Restore Our Planet, which includes the well-known Trillion Trees Project, responsible for replanting trees in order to restore deforested areas and strengthen endangered habitats. You can look at all of our environmental, social and governance (ESG) commitments. 
We have also contributed regularly in smaller ways. We sent out a company survey that raised 50p for each respondent for Tommy's (the pregnancy charity working to make the UK the safest place in the world to give birth) and Alzheimer's Research UK. 142 people completed the survey so we rounded the number up to 200 and then paid £100 to each charity. 
TPO partners with Penny Appeal for Thirst Relief 
For one of our larger charitable projects, we paired with Penny Appeal for the sponsoring and development of clean, fresh water wells in countries where accessible drinking water is a critical issue, such as Nepal, Pakistan and India. 
Unfortunately, dirty water is one of the most common causes of death in the developing world. According to the 2022 UNICEF report on the state of the world's drinking water, 4 billion people will experience an extreme scarcity of drinking water for at least one month per year.  
However, while it is one of the most common causes of death in the world, luckily it is also one of the most preventable. 
TPO worked alongside Penny Appeal to set up an initiative where we pledged to sponsor a clean water well to be built for each new client referral we received. Penny Appeal then worked through Thirst Relief to construct the wells and ensure that they would provide safe water for drinking, washing, cleaning, growing crops and hydrating livestock.  
It is anticipated that these wells will prevent deaths from the consumption of poor quality water, as well as contribute to the economies of the local communities where they are built. Not only will this lower the risk of disease, but residents will no longer need to spend hours every day walking to their closest safe water point. This means that they can spend more time focusing on work, taking care of each other and attending schools.  
But don't take our word for it, have a read of some of the testimonials below. 
From the village of Mansari, Nepal  
"Now I have a well in my own home and there's no need to go to other homes to collect water. I am very happy. Thank you so much." 
"Thank you for helping us. We now have access to clean safe water."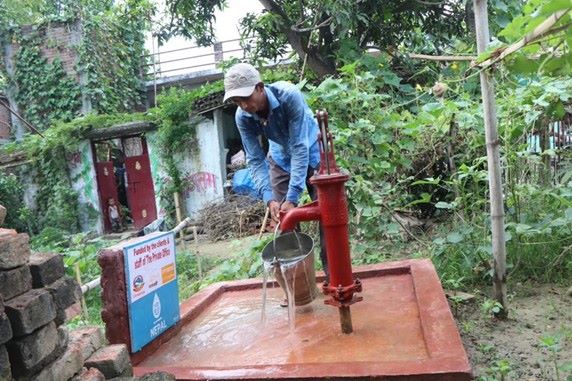 "Thank you so much for this well. You will be in our prayers." 
If you would like to find out more about the charitable work we do and would like to get involved, email us at marketing@theprivateoffice.com.
If you would like to sponsor a well or just want to find out more about how you can help, take a look at Penny Appeal's website where you can donate to Thirst Relief. Even the smallest donation can make an immense difference.