The importance of the "G" in ESG
Responsible investing proves doubters wrong
There has been an explosion of Environmental, Social and Governance (ESG) funds recently which highlights the shift in sentiment towards the climate change emergency agenda. Over the last year there was a 40% increase in the number of ESG funds launched and there continues to be new launches from global fund houses almost on a weekly basis. 1
It's surprising therefore that The Investment Association confirmed that just 6% of funds available are classed as "ESG" in a market with a total of £1.3 trillion in funds under management.
The pandemic and ESG - strong returns over the crisis period
Prior to the Coronavirus pandemic, it had been expected that the ESG sector might perform worse than the market as a whole, as there is a smaller pool of companies to choose from, however, the sector has so far proven doubters wrong with strong returns over the crisis period, when compared to other areas of the market, and has largely protected capital on the downside.
To put this into perspective, the markets started to react to coronavirus and fall on 20th February 2020 and bottomed on the 23rd March 2020. Over this timeframe, the MSCI United Kingdom fell -32.19% and the S&P 500 fell -25.55%.
TPO manage a range of investment portfolios for clients, to cater for all risk appetites.
Over this time, our diversified portfolio AA1, which is split fairly evenly between equities, fixed interest and alternative assets, fell -16.63% but our comparative ESG portfolio fell by less, -13.77%.
Recovery of ESG has also been strong as these are companies made up of great value stocks; investors are seeing the benefit of good Governance - the G in ESG.
Please note: The value of investments and the income derived from them can fall as well as rise and you may not get back what you invest. Past performance is not a guide to future performance.
The importance of strong governance
Strong corporate Governance is the key catalyst when building a strong foundation to a company.
Just as how we have integrated strong Governance into our business plan, we also look out for fund managers who see the investment landscape in the same way and harness this remit for our investors. This enables our clients to be exposed to some of the best run companies in the world who are also here to make a sustainable or environmental difference to the future.
We have built a range of ESG portfolios, designed to suit different appetites for investment risk, where the fund managers have a mandate to invest in companies which support an ESG future for us all. These portfolios undertake stringent research and portfolio construction to deliver a diversified portfolio that has filtered the Investment universe and taken some of the industry's best ideas into one complete package.
It's no surprise that companies who are developing commercially attractive products which protect the world's resources are doing well. It's very much a feature of the modern day consumer and that is translating into corporate returns and attractive shares and assets for investment funds. Global rating agencies S&P, Moody's and MSCI all bought ESG rating companies in 2019, which just shows how seriously the investment world is taking the march of the ESG agenda.
When executed properly, sustainable investing offers a wholly positive proactive approach to investing – targeting companies that have been identified as having a positive social and environmental impact, which should encourage more to follow suit. The unexpected uplift in performance is merely the icing on the cake.
With the right advice, investors don't need to choose between their social conscience and excellent returns.
TPO gifts 25% of its future value to environmental charities
It is clear that it's not just investment funds and the companies they are investing into that should be abiding by ESG principles. As a gateway to helping investors manage their future, it is our responsibility as Financial Advisers to lead the way to successful sustainability that will manage our planet's future. But that means demonstrating with action and not just words.
A key value of our business is to have a significant positive impact by helping environmental charities to save the planet. To gift 25% of our future value is an unquestionable show of our very real sentiment.
TPO's majority shareholder, is one of the leading environmental philanthropists in the UK with a track record in instigating and actively supporting UK and global environmental charities and causes, including the Trillion Trees campaign.
TPO sustainable credentials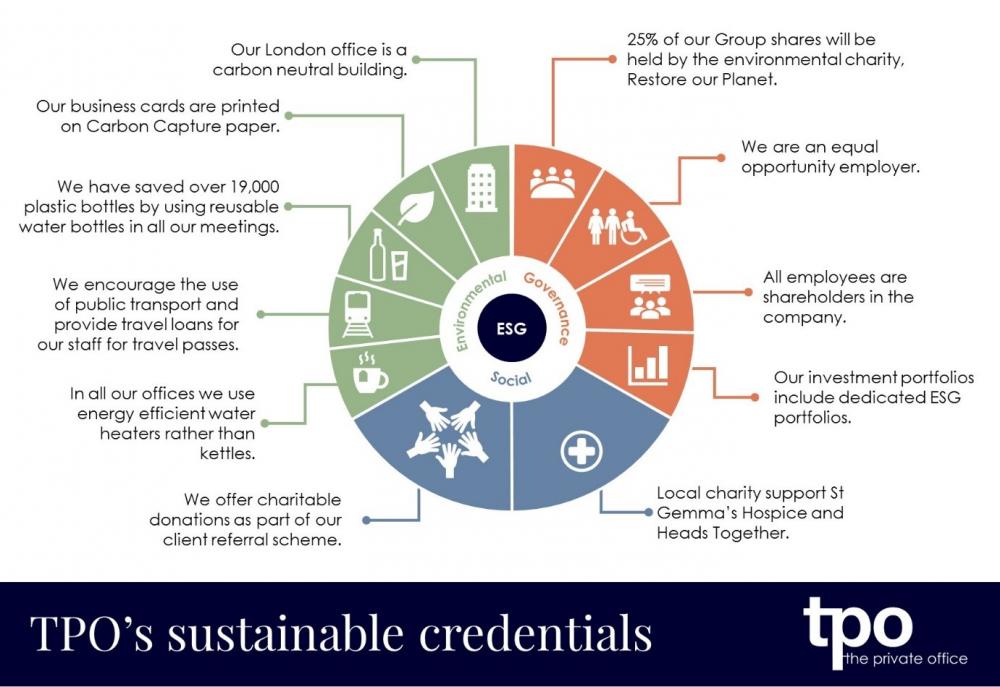 ​
1. Number of ESG funds taken from financial express fund info 19th June