What is ESG investing?
ESG investing is where fund managers invest in companies that work towards improving the Environment, addressing Social inequality or Governance improvements.
It might seem that the investment world has just woken up to these issues, but ESG investing has been around for some time. In the past 25 years, there have been various labels such as ethical, green, stewardship, sustainable and responsible, but they now mainly come under the banner of ESG.
The ESG opportunities
The ESG investing world can be confusing; the terminology is not yet set; the regulatory framework is being built and processes and practices are still evolving. There are challenges, but these are outweighed by the opportunities. So why might you want to consider ESG investing and what does it all mean?
ESG investing is also known as sustainable investing and many investment managers select companies which aim to support one or more of the seventeen sustainable development goals that the United Nations has rolled out to support their 2030 agenda.
Why is ESG important?
One of the biggest reasons why ESG is important is simply because people believe it is the right thing to do. The Department for International Development published a comprehensive report on the matter,' Investing in a better world'.
In this, over 70% of people say they want their investments to avoid harm and achieve good for people and the planet. 52% of people say they would be motivated to save more if they knew their savings and investments made a positive difference in the world.
What does the ESG stand for?
E is for Environmental; S is for social and G is for corporate Governance. The environmental component requires research into a variety of elements that illustrate a company's impact on the earth. Social consists of people-related elements like company culture. The corporate governance component relates to the board of directors and company oversight.
Environmental topics
There are a number of environmental topics that contribute and show a company as deserving of investment these include:  
Climate change policies, plans, and disclosures 
Greenhouse gas emissions goals and transparency into how the company is meeting those goals 
Carbon footprint and carbon intensity (pollution and emissions) 
Water-related issues and goals, such as usage, conservation, overfishing, and waste disposal 
Usage of renewable energy including wind and solar 
Recycling and safe disposal practices 
Green products, technologies, and infrastructure 
Social topics
Social topics include those that impact employees, customers, consumers and suppliers these include:  
Employee treatment, pay, benefits, and perks 
Employee engagement and staff turnover/churn 
Employee training and development, safety policies and sexual harassment prevention 
Diversity and inclusion in hiring and in awarding advancement opportunities and raises 
Ethical supply chain sourcing, such as conflict-free minerals and responsibly sourced food and coffee 
The mission or higher purpose of the business (or lack thereof) 
Consumer friendliness, customer service responsiveness, and history of consumer protection issues including lawsuits, recalls, and regulatory penalties 
Public stance on social justice issues, as well as lobbying efforts 
Governance topics
ESG investors analyse how corporate management and boards relate to different stakeholders, how the business is run, and whether the corporate incentives align with the business's success. These include:
Executive compensation, bonuses, and perks
Compensation tied to metrics that drive long-term business value, not short-term earnings per share growth
Whether executives are entitled to 'golden parachutes' - agreements which specify certain significant benefits if the executive loses their job
Diversity of the board of directors and management team
Board of director composition regarding independence and interlocking directorates -- which can indicate conflicts of interest
Proxy access
Whether a company has a classified board of directors
Whether chairman and CEO roles are separate
Dual- or multiple-class stock structures
Transparency in communicating with shareholders, and history of lawsuits brought by shareholders
Is ESG investing the same as ethical investing?
Ethical investing is not the same as ESG investing. An ethical investor will typically avoid investing in companies, sectors or activities which they deem harmful to society, the most common examples of these are tobacco companies or those involved in firearms. This is referred to as negatively screening, with the investor filtering out companies which they deem to be socially irresponsible.
In contrast, ESG investing applies a positive screening approach when selecting investments; assessing and rating companies on whether their practices, production and overall business models demonstrate a positive trend to comply with ESG principles.
ESG principles and company ratings
ESG fund managers generally adopt a forward looking, positive approach when considering potential inclusion in their fund. This means rating their companies on all E S and G elements and considering what the intent of the company is, and what actions they are taking, to ensure they generate measurable social or environmental impact alongside a financial return.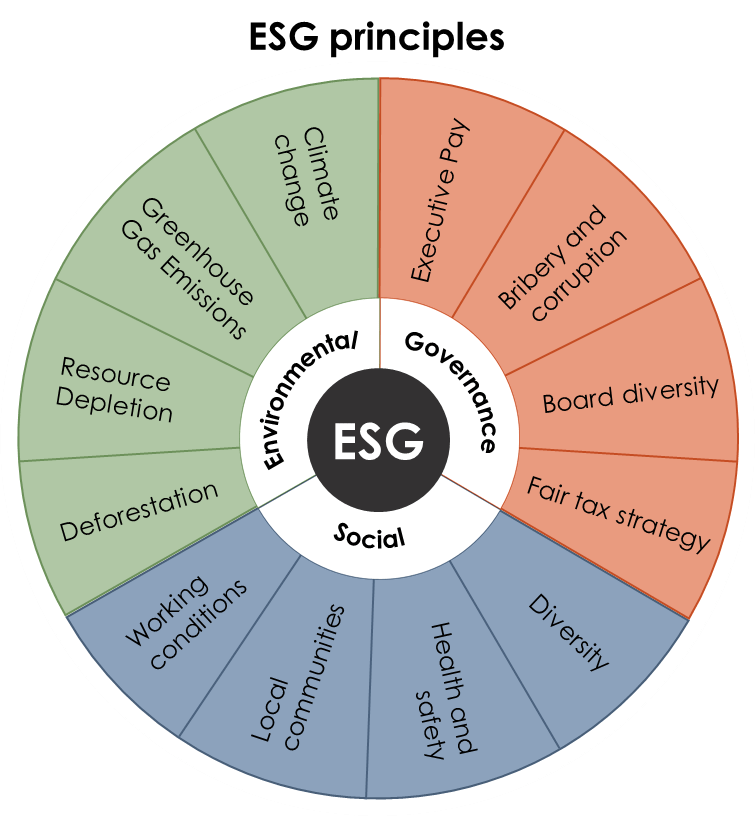 ​
A common example of a sector which has endeavored to reduce their carbon footprint, and subsequently improved their environmental impact, are hotels and resorts. Many well-known hotel brands have significantly reduced their waste production and water usage, whilst also committing to making the hotel properties more energy efficient.
While the environmental impacts of these improvements may have been promoted as being the core rationale for any action taken, the reduction in energy costs lends itself to greater profitability for the hotel owners, whilst also improving brand loyalty for environmentally conscious travelers. Likewise, the reputational impact on a company in the event of non-compliance with increased environmental regulation or governance could have a huge impact on potential growth of the company.
This really has to be considered as a risk when investing. Failure to comply with climate change regulation in place already carries significant fines and reputational risk; both have a direct correlation to the financial performance and profitability of a company and subsequent investment.
The caveat on this type of investing is that there will always be arguments as to whether a company should be deemed to be compliant with all ESG elements.
Well-known businesses are leading the way
Another strong winner for incorporating ESG fundamentals has been Microsoft who have benefitted from prioritising climate and social concerns.This has attracted more investment and an increase in share price.
Another tech giant, Alphabet and entertainment company, Disney are not far behind highlighting that it is not only smaller, lesser known companies agile in this sector but major players leading the way.
Large companies focusing on ESG criteria have benefitted from increased investment and those who have not – paid the price. Volkswagen's emission scandal in 2015 cost the company $7 billion in costs and over $4 billion in penalties seeing Volkswagen's stock value dramatically fall.
Future proofing your money
There is good academic evidence showing that integrating ESG factors into investment processes improves returns, mainly around the issue of "future proofing" your portfolio, in that companies with strong ESG profiles may be better positioned for future challenges and experience fewer instances of bribery, corruption and fraud. Most importantly there is of course the overpowering mantra that investing for "good" surely cannot be "bad" for the world.
Regulatory changes for ESG investing
There is a simple truth that regulation is also likely to push investment advice to incorporate sustainability considerations and disclosures. Traditional investment approaches paid no heed to ESG issues, regarding them as relevant only to ethical investing. More important though, is the future regulatory requirement for advisers to incorporate sustainability preferences into the advice process.
In January 2019, the EU commission published draft rules on how investment companies should take sustainability issues into account when providing advice to their clients. These include amended delegated acts under MIFID II (Markets in Financial Instruments Directive). We want to be ahead of regulators in our advice to you.
We classify ESG as sustainable investing:
A responsible investor takes ESG factors into account because of the impact they have on financial returns
A sustainable investor also understands the materiality of ESG considerations and the impact on financial returns but aims to invest in a way that actively captures the investment opportunities presented by the transition to more sustainable economies
An impact investor goes one step further by investing in a way that positively contributes to the development of a more sustainable system, seeking a financial return as well as a positive impact on one or more of the UN's sustainable development goals
Is ESG investing a fad?
The market is small but growing. Employing an ESG filter on your investments will significantly reduce the number of available funds that can fit within an ESG portfolio, currently some 247 funds fit (and we only select a few of those), but it is growing almost exponentially. And is not likely to be a fad.
As an adviser we will ask you if you want us to incorporate ESG criteria within your portfolio. We are ambivalent as to your decision on that, but what our Investment Team have come up with is a range of ESG portfolios sitting alongside our preferred portfolios that you and your family and friends can access in exactly the same way. It may be that a blended approach with a mixture of traditional and ESG investing will suit you too. The decision will always sit with you.
If you would like more information, why not arrange a free consultation with a Financial Adviser today? Our expert chartered financial advisers who would be happy to help.
Please note: Past performance is no guarantee of future returns. The value of investments and the income from them can fall as well as rise, you may not get back what you originally invested.